SURVIVAL IN AVALANCHE
Annually, about 150 people become victims of avalanches, but the number of victims is much higher. To avoid this, you should not climb, ski or snowmobile on steep slopes with abundant snow cover in areas that have not been blasted to cause controlled snow landslide. To find out the areas where avalanches occur and the likelihood of such a development of events in a particular area, be sure to talk about this topic with local residents. Write down the contacts of the search and rescue units. Even if you are unable to make a call, your mobile device will act like a beacon. Pay attention to weather conditions: risk factors include about 30 cm of freshly fallen snow or previous rain.
Avalanche classification
Dry avalanches – formed after heavy snowfalls at low temperatures. Their speed is the highest among all types of avalanches – from 70 to 125 m / s.
Wet avalanches – are formed when winter or spring snow melts, or with a constant change in temperature. The speed of a wet avalanche is lower, but after stopping, the snow crystallizes in a few seconds. Because of this, it is practically impossible to break through the thickness of ice overhead.
Snow boards are the most insidious type of avalanche. This is a floor that is not bonded to the lower layers of snow. As a rule, they appear during the period of a sharp cold snap, even after minor snowfalls.
Slope dependence
0-15 degrees – potentially dangerous slopes, rare super-wet avalanches and water-snow flows are possible;
15 – 25 degrees – rare avalanches, possible wet and super-wet avalanches;
24 – 45 degrees – the main range of avalanches;
45 – 60 degrees – avalanches with a high degree of repeatability;
60 – 90 degrees – the formation of avalanches is unlikely.
If you hit the very center of the avalanche at the moment when it is just starting to move along the mountain slope, try, if you have time, to move at least to its edge as quickly as possible. Snow collected by the movement of the avalanche accumulates in the middle. It is much smaller around the edges, and it does not move as fast. If the snow begins to landslide under your feet, jump up the slope into any crevice that you see in the upper layer of the snow cover. If there is no way to avoid an avalanche, hold on any solid object firmly fixed on the slope that you can reach (a tree, rock ledge, telephone pole), or lie down flat and try to "swim" on the snow moving down.
You will be hit hard if your body is perpendicular to the direction of the avalanche's descent.
Being buried under the snow is the same as being buried under a layer of sand. In this state, you may not be able to move or even breathe. Therefore, even during the downward movement, it is necessary to create an air pocket.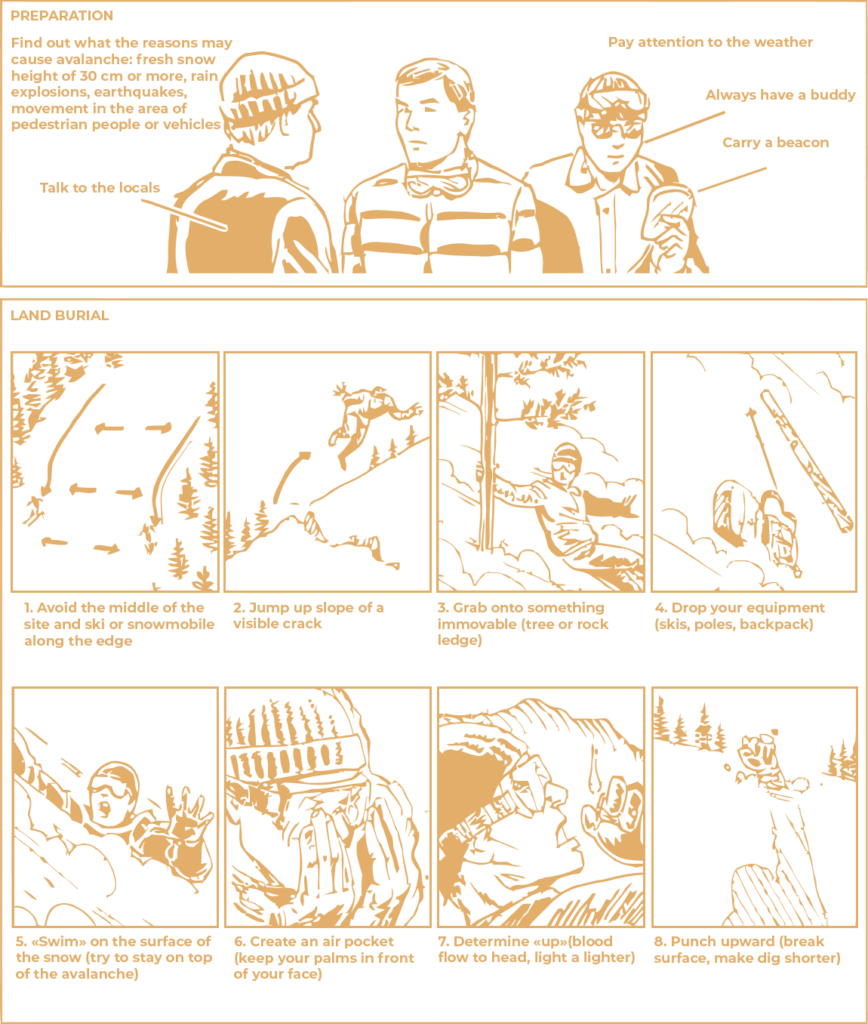 To do this, place your palms in front of your face. Once under the snow, do not panic: try to breathe regularly and calmly – this way you will save more oxygen. Do not shout – the snow has very low sound conductivity, nobody will not be able to hear you, but you will spend a lot of oxygen to scream. You can determine which part of your body is higher than the rest after stopping by shining a lighter, drooling, or by feeling the direction of blood flow to the head. Try to widen the air passage in front of your face. To do this, shovel the snow above you. In this case, you will be able to breathe normally before the rescue team starts work.