WHIRLWIND
No natural disaster scares the average person like a hurricane, the threat of which is usually warned by forecasters for several days, or even weeks. And while such warnings need to be treated carefully and evacuated in advance, the deadly consequences of a tornado, which are usually not reported in advance, are much more dangerous. Their area of damage is noticeably smaller, which creates the erroneous impression of low danger. Strong hurricanes lead to mass casualties, but still inferior to tornadoes in the number of deaths.
About 10 hurricanes can happen around the world during the year. During this period, more than 1,000 tornadoes have occurred in the United States alone.
Pay attention to evacuation warnings
The main danger of hurricanes lies not in strong winds, but in flooding, which is why it is important to evacuate the population on time. False alarms generate disdain for evacuation warnings among residents in high risk of flooding areas. However, one serious flood is enough to destroy the infrastructure of an entire city. If hurricanes are easy to spot from a satellite at the moment when they are just gaining strength over the oceans, then tornadoes under favorable atmospheric conditions are formed within a few minutes. There is very little time to react correctly. Because of this, these rapidly emerging powerful winds claim more lives than many other natural disasters.
The radius of destruction of a tornado can reach 2 km from the funnel, and the wind speed on the Earth's surface can be up to 500 km per hour.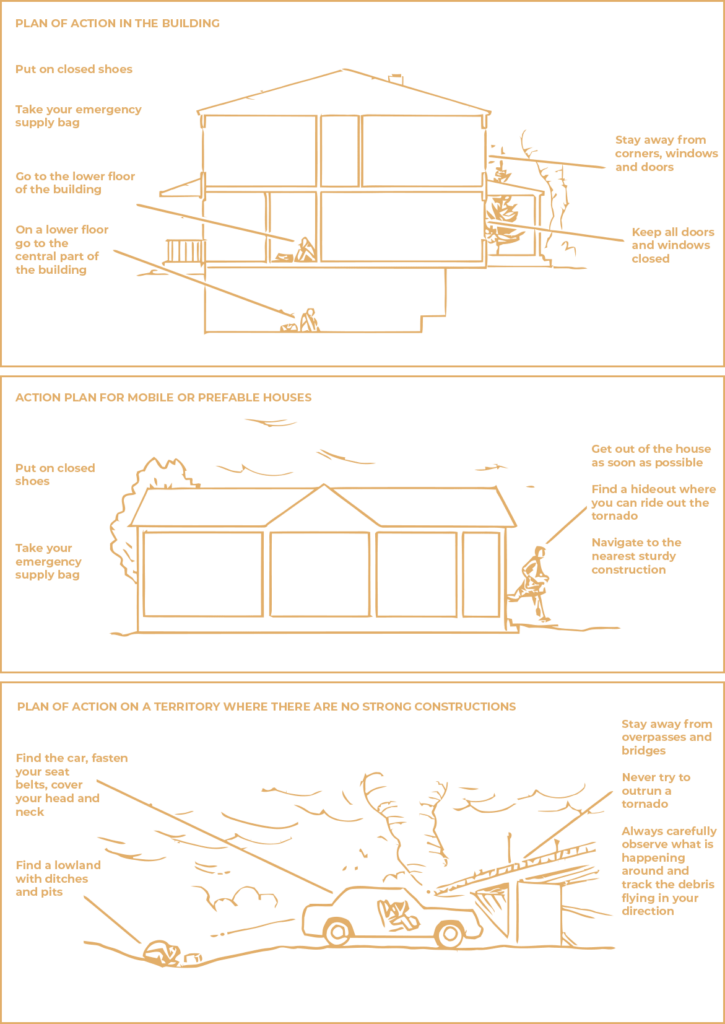 Follow local protocol. In addition to the standard set of items, be sure to put a key and pliers in your "emergency case" so that you can safely turn off the gas and water if leaks begin. Do not seek shelter in mobile or prefabricated homes. If your home does not stand on a solid foundation, then staying in it is very risky. Better to find a more durable structure and hide there. Stay as close to the ground as possible and try to be in the center of the house. Close windows and doors and stay away from them. Stay at the bottom of the house.
Previously, it was believed that you need to open windows to avoid creating a vacuum in the house, but this can lead to the fact that inside there is a strong draft that can blow off the roof.
If you are not indoors, the safest place for you is your car. Its glass, in contrast to window glass, has increased strength and can withstand high impacts. In case a tornado starts spinning your car, fasten your seat belt. Don't try to outrun the tornado. He has tremendous speed, but you do not. Moreover, his path is unpredictable. Use the remaining time to get into the safest position possible. Try to find a low place, lie in a ditch or hole so that their walls serve you at least some kind of protection from objects that will start flying under the influence of a tornado.