GOING TO THE MOUNTAINS
Recent years, special equipment has become increasingly lightweight and compact. Thanks to this, it is now possible to pack food, camp equipment and survival items into one backpack that can be carried on your shoulders. However, in doing so, we still sacrifice energy reserves, joint health and the ability to fully prepare for the vagaries of the environment. In the past, explorers have never embarked on an expedition without pack mules and wagons. Unlike the pioneers, we have the ability to use modified modes of transport.
When conditions on the route permit, a mountain bike is a very convenient means of transportation. It greatly expands your capabilities, thanks to the ability to transport cargo on it. Pack your camp set-up essentials such as cookware, a water filter and navigational tools, and a stocks of water in one waterproof bag, and in another, put food selected for your expedition (food, ready-made for consumption, dry concentrated foods, energy bars), and in the third – clothes. Place light but cumbersome sleeping fixtures in a backpack that you carry behind your back.
Compose your stock, taking into account temperature range, typical for the mountainous terrain. You should have a variety of clothes, from the lightest to the warmest and therefore the heaviest and tightest.
Don't skimp on socks. Read the article on jungle survival for more on how important this is.
An inflatable boat and a four-section collapsible paddle are useful for overcoming water obstacles. In a deflated state, a floating craft the size of a soccer ball.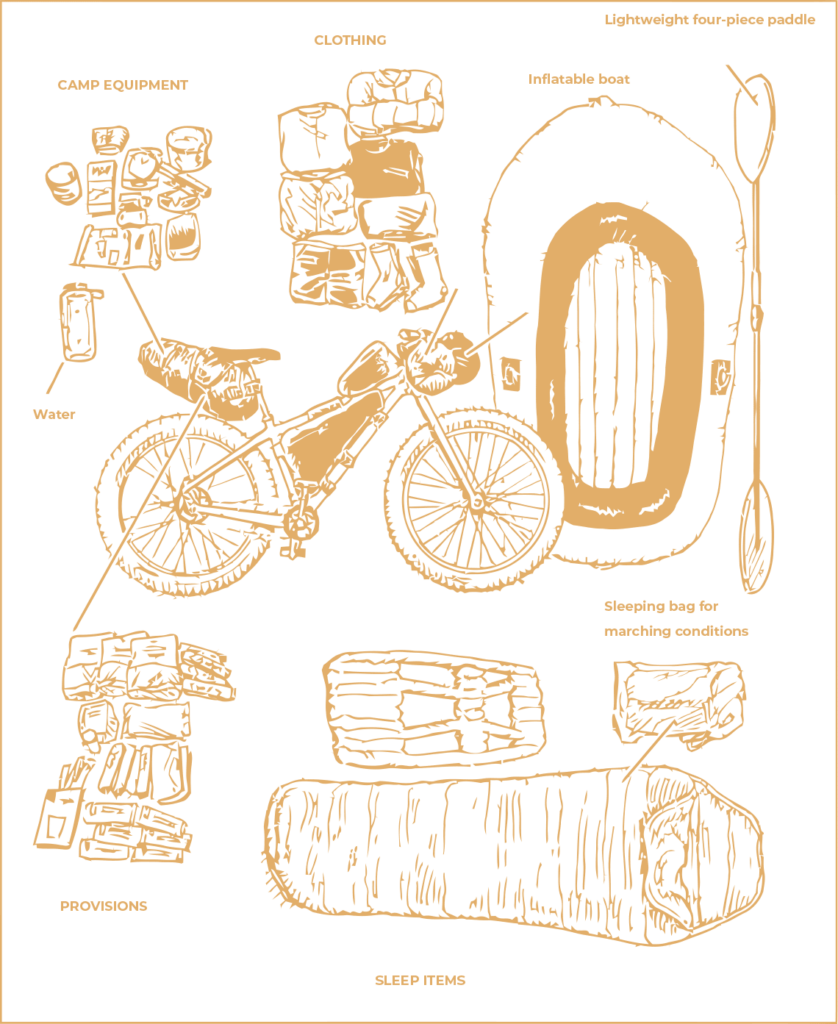 When crossing rivers or lakes, put the bike on your lap or on the bow of the boat.
All of these tips, familiar to athletes on multi-day adventures, are modified here for maximum mobility and flexibility.